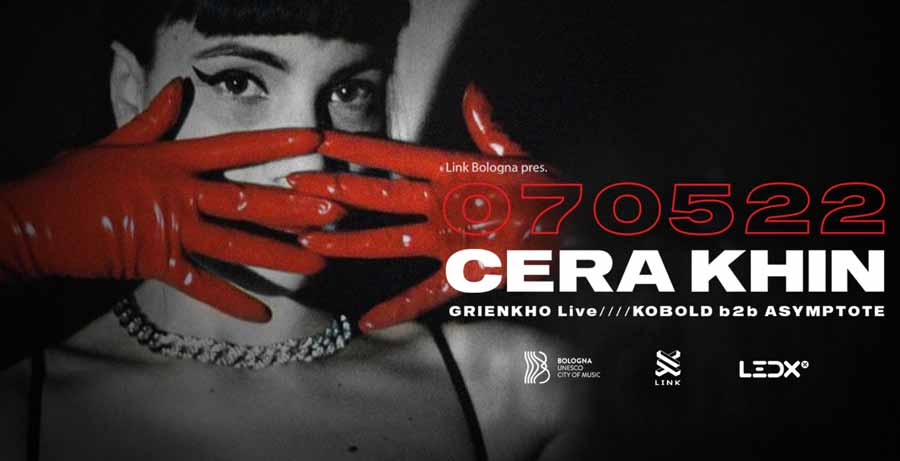 Per la prima volta Cera Khin arriva a Bologna. L'artista tunisina con base a Berlino porterà al Link un set eclettico e trascendentale che si muoverà tra sonorità industrial hardcore techno, acid, hard trance e gabber. Ad accompagnarla il live di Grienkho e il B2B di Kobold e Asymptote.

💥 Ticket online su Dice 
◎Early Bird > 10€
◎Regular > 15€
◎Door > 20€

---
Cera Khin
Cresciuta in Tunisia e attualmente di base a Berlino. Cera Khin dal 2016 infiamma i dancefloor di tutto il mondo suonando "Whatever The Fuck She Wants" dalla techno più energica all'electro, dall'acid rave alla trance, all'hardcore alla gabber…Durante il lockdown, Cera ha deciso di andare oltre la musica, fondando la piattaforma "Technomentalhealth" in cui diffonde consapevolezza sull'importanza della salute mentale nell'industria della musica elettronica. Cera Khin gestisce anche la Label Lazy Tapes rilasciando musica su cassetta e vinile.
---
Grienkho (Cyberspeak Music, Pushmaster Discs)
Grienkho, bolognese stabilizzato a Milano, è attivo con diversi moniker e progetti in studio, recenti le sue collaborazioni con Renick Bell, Neil Landstrumm, Train To Eltanin. Cura eventi fisici e virtuali con Cyberspeak Music, che hanno visto la partecipazione di Richard Devine, Gabor Lazar, PTU, Samuel Kerridge, Luke Vibert. I suoi live set sono sempre diversi, padroneggiando ogni setup e riprogrammando costantemente la sua identità fluida, in cui convergono linguaggi e tecnologie differenti, sempre ad alta velocità.
---
KOBOLD
Music producer, Dj and owner of Timeshift Bologna. Orientato alla console sin dalla tenera età, l'obiettivo di Kobold è sempre stato quello di farti muovere. Kobold attinge da un'ampia gamma di esperienze di musica elettronica, da una percepita predisposizione alla new wave anni '80 ma anche alle nuove vie della techno e dell'EBM, senza risparmiare l'anima essenziale della componente roots house. Dal 2013 è il fondatore di Timeshift Bologna, affiancato da uno staff ampio e ancora caldo, è un progetto che sviluppa la grande dimensione della musica elettronica in tutte le sue gamme.
---
Asymptote:
Asymptote è un duo di base a Roma, resident djs dell'evento Resistance is Techno e label manager di Suburban Avenue. La loro musica è definibile come una Techno Retro-Futuristica, ispirata dalle sonorità detroitiane dei primi anni '90 e dai movimenti elettronici più nuovi e scuri. Attraverso le loro produzioni, gli Asymptote, danno la loro sintesi tra suoni Acid, Raw, Electro e EBM.
---
>>> Domanda Tesseramento Link 2.0:
https://members.ugo.srl/signup/link

– Per accedere è OBBLIGATORIO avere effettuato domanda di tesseramento online prima dell'evento. La tessera sarà successivamente attivata dopo aver completato la domanda presso lo sportello di tesseramento online al Link.