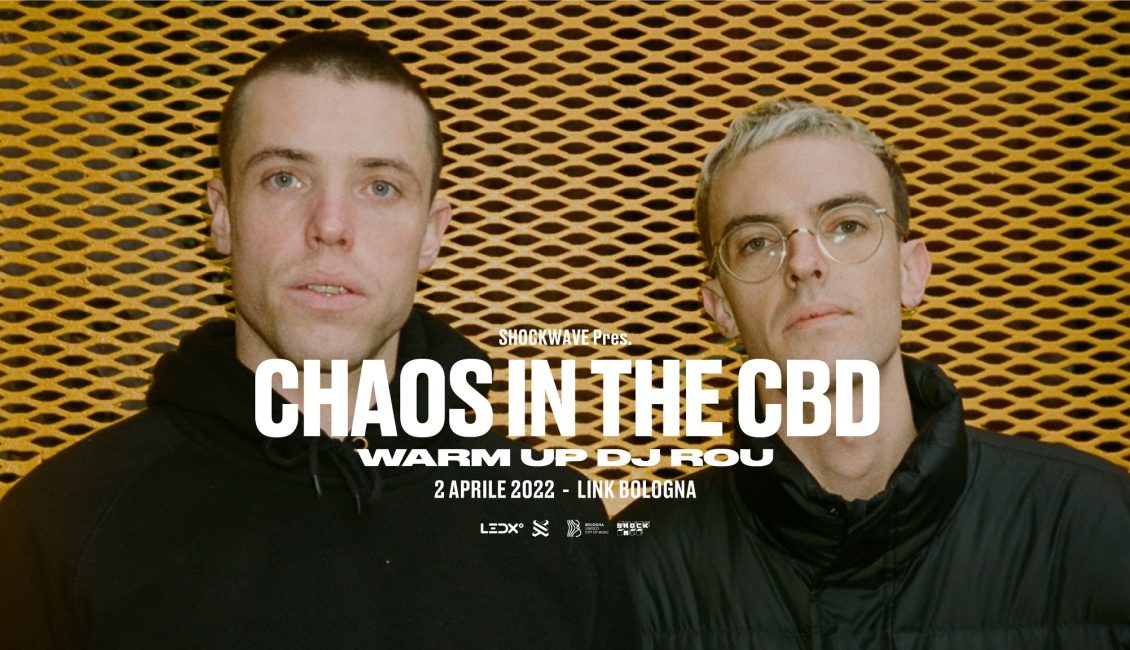 ShockWave pres. CHAOS IN THE CBD
Chaos in the CBD,  i due fratelli Ben e Louis cresciuti a Auckland in Nuova Zelanda, terra che ha segnato definitivamente il colore del loro suono, le vibrazioni tranquille di chi cresce sulla spiaggia.
Erano due ragazzi che andavano ai rave, in ammirazione dei dj locali per poi spostare il loro interesse oltre, nelle città simbolo di Chicago e Detroit. L'incontro fortuito e fortunato con Bradley Zero ha segnato il loro percorso, pubblicando nel 2015 il loro EP culto, Midnight In Peckham, su Rhythm Section Intl.
Vasta è la loro produzione, segno di una crescita professionale che li spinge da molti anni verso il successo internazionale, sia in studio che sui palchi, dove i Chaos in The CBD si distinguono per la proposta dance, una techno elegante ma non delicata, un livello diverso tutto dedicato al dancefloor.
DJ carismatico, produttore e beatmaker, figura di spicco del cosmo underground bolognese.
Fondatore del negozio di dischi Archivio180, durante la sua carriera ha collaborato e pubblicato singoli ed EP con etichette italiane ed internazionali come Bosconi Records, Cognitiva Records, Axe On Wax e Robsoul Jazz.
Ha portato i suoi dj set, tra gli altri, a Robot Festival, Jazz Re:Found, 180grammi, Opera Festival.
Ticket online su DICE:
https://link.dice.fm/kfdca93e38b0
◎Early Bird > 10€ SOLD OUT
◎Regular > 15€
Domanda Tesseramento Link 2.0:
https://members.ugo.srl/signup/link
– Per accedere è OBBLIGATORIO avere effettuato domanda di tesseramento online prima dell'evento. La tessera sarà successivamente attivata dopo aver completato la domanda presso lo sportello di tesseramento online al Link.
---
Come da normative vigenti, per accedere all'evento è necessario il possesso del Green Pass rinforzato o "Super Green Pass".
Durante l'evento nelle zone indicate sarà obbligatorio indossare la mascherina in conformità con le indicazioni del Ministero della Salute.
Il numero di ingressi è limitato e contingentato secondo le norme anti covid-19.
L'ingresso è consentito SOLO a chi indossa la mascherina.
Saranno presenti diversi punti per la sanificazione delle mani da usare in accesso e in uscita da ogni area dello spazio.