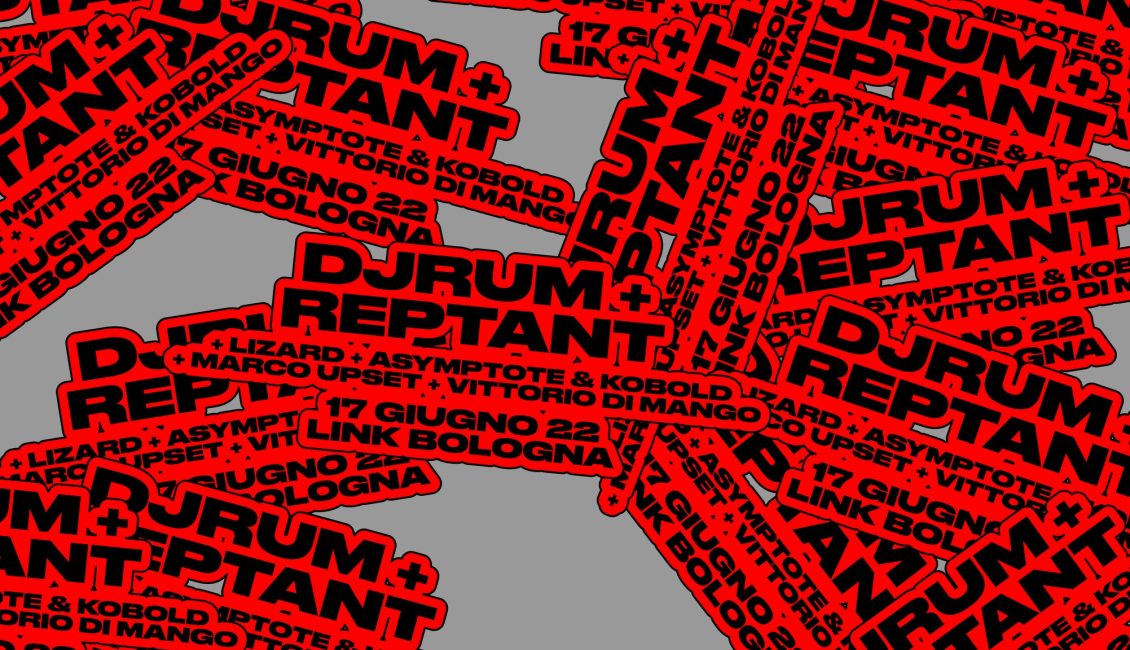 Due dei maggiori interpreti della scena elettronica underground internazionale assieme per un party su due stage nel giardino estivo del LINK.
△ DJRUM aka Felix Manuel (R&S, Ilian Tape, Second Drop, On The Edge, Smoking Sessions), uno dei protagonisti della scena underground britannica contemporanea, il suo stile, unico ed eclettico, fonde la dance music contemporanea con hip hop e dubstep, un'esplorazione del terreno musicale su più livelli e senza barriere di genere. Dopo dieci release con la 2nd Drop Records, nel 2017 passa alla leggendaria R&S Records con la quale rilascia l'ep Portrait With Firewood un viaggio tra struggenti composizioni per piano e violoncello e dancefloor vertiginosi dominati dai broken beat. La sua ricerca artistica si esprime durante i suoi dj set una fusione di generi dal jazz, hip hop alla dubstep dall'ambient alla jungle e alla techno.
● REPTANT (Kalahari Oyster Cult, Warning, Die Orakel) è uno dei massimi esponenti della nuova scena electro internazionale. Prolifico producer di Melbourne che ha saputo sviluppare un suo signature-sound grazie ad un electro analogica con un suono 90's pieno e originale ma attraversato da tante sfumature diverse: breakbeat, acid. Synth trance, bassline acide e bliss celestiale.
Return To Planet X'trapolis è un disco-manifesto di quello che è Reptant. Per molti un must have se si vuole capire come produrre nel 2022. Ectoplastic è la hit che tutti hanno ballato almeno una volta. Dopo tre anni, torna in Europa per un tour di quattro mesi che toccherà le città e i club più rappresentativi della scena musicale.
---
GARDEN STAGE
DJRUM (R&S, Ilian Tape, Second Drop, On The Edge, Smoking Sessions)
Lizard https://soundcloud.com/lizard-bo
Marco Upset https://soundcloud.com/marcoupset
ARENA STAGE
in collaborazione con TimeShift, Ways, Resistance is Techno
>> REPTANT live (Kalahari Oyster Cult, Warning, Die Orakel)
Asymptote & Kobold
Vittorio Di Mango
——
Ticket online su UGO
> Early Bird 5 €
> First Release Ticket 7 €
> Ticket in cassa a 10 €
---
Ingresso riservato ai soli SOCI in possesso di tessera AICS
>>> Domanda Tesseramento Link 2.0: https://members.ugo.srl/signup/link
– Per accedere è OBBLIGATORIO avere effettuato domanda di tesseramento online prima dell'evento. La tessera sarà successivamente attivata dopo aver completato la domanda presso lo sportello di tesseramento online al Link.
---
DJRUM
DjRum's matchless technique is an art form, often implementing three decks, he uses turntables as instruments and moves smoothly between techno and jungle. Djrum is a perennially acclaimed underground artist, since his first release in 2010 who's quietly built a list of fans that reads like a who's who of contemporary dance music for his ability to deftly fuse a range of genres from jazz, hip hop and dubstep to ambient and techno.
RA > https://ra.co/dj/djrum
SOUNDCLOUD > http://soundcloud.com/djrum
REPTANT
Reptant the lizard ended up in a drain pipe after a storm. It's said that he is still in the drain and has built a studio out of foraged electronic components some of which are believed to have been stolen from underground metro networks.
RA > https://ra.co/dj/reptant
SOUNDCLOUD> https://soundcloud.com/reptant_the_lizard
---
Lizard (BUM, Mint Sound) _ Massicce influenze ed importazioni d'oltremanica. Downtempo, future jazz, garage house e una predilezione per jungle e drum and bass. Membro delle crew bolognesi WHP, Mint Sound e B.U.M. Ha prodotto musica per PURISM, The Dreamers, Fonotopia Rec e Liquid Flavours.
Marco Upset _ "Sull'onda della consacrazione internazionale del dubstep, la Soul Jazz Records pubblicò un documentario di Bruno Natal, intitolato "Dub Echoes", in cui veniva descritto il ruolo cruciale del dub nell'innervare buona parte delle musiche più significative che hanno preso forma dagli anni '70 in poi. Nei suoi dj set, Marco Upset sembra illustrare proprio questo concetto, percorrendo quel segmento del continuum UK che dalle radici dub jamaicane conduce al dubstep e alle mutazioni-ibridazioni con la techno, passando per le frange più avant del grime e dell'odierna bass music […]" Alarico Mantovani – Ghost Tropic Radio Show