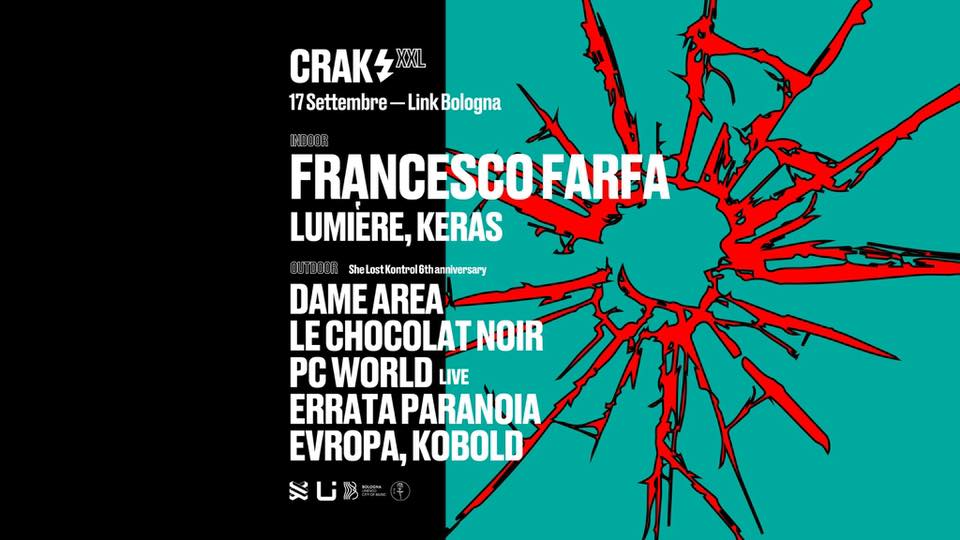 Torna al Link uno dei format più conosciuti e apprezzati, ⒸⓇⒶⓀ, nella sua versione XXL con due stage, tanti amici e ospiti di grande calibro.
Francesco Farfa, Lumiére e Keras animeranno lo stage Indoor senza esclusione di colpi, mentre lo stage Outdoor sarà affidato a She Lost Kontrol per il loro sesto anniversario.
INDOOR
Francesco Farfa
Lumiére
Keras
OUTDOOR
She Lost Kontrol 6th anniversary w/
Dame Area live
Le Chocolat Noir live
PC World live
Errata Paranoia
EVROPA
Kobold
Ticket online su UGO a 9,99€+ddp https://bit.ly/3QBzDhD
Ingresso riservato ai soli SOCI in possesso di tessera AICS
Domanda Tesseramento Link 2.0: https://members.ugo.srl/signup/link
Per accedere è OBBLIGATORIO avere effettuato domanda di tesseramento online prima dell'evento. La tessera sarà successivamente attivata dopo aver completato la domanda presso lo sportello di tesseramento online al Link.
_____________________________________
📌 BIO
🦋 FRANCESCO FARFA
Francesco Farfa has got his groove back. In recent times, the Italian DJ has found himself re-energised once again, back in love with electronic music and right back at the sharp end of the underground scene. A true digger and sound obsessive, Farfa comes armed with decades of experience and musical appreciation, but now with a fresh perspective that means he is once again doing what he does best: turning musical emotions and compelling rhythms into dance floor art.
The Florence born DJ first started playing as far back as the 90s, laying down vital sets of funk, disco and proto-house sounds. His deck skills and rare knack for selection and sequencing meant he soon became one of Italy's most famous DJ exports, with his unique skills earning him sets at some of the most prestigious night venues and festivals, such as Space (Ibiza), Amnesia (Ibiza), E-Werk (Berlin), Vinyl (New York), Sonar (Barcelona), Love Parade (Berlin), Monegros (Fraga), Street Parade (Zurich) and many more.
From a production perspective, Farfa has released on the likes of Momento, Souvenir and Serial Killer, always evolving with each new 12″. Timeless sounds that always leave an impression, Farfa's records have earned a renaissance of late thanks to the support of numerous high-profile players from the scene.
Farfa's music has been called everything from psychedelic techno to cyber-trance, but it is impossible to truly define, with Farfa instead going in whatever direction his heart takes him. Hugely respected in his native country, Farfa has influenced a whole host of Italian DJs, with none other than Francesco Del Garda among those who continue to cite him as a major influence. Now, it is Del Garda who is inspiring Farfa, and in fact the pair have plans for a special back-to-back series that will see them join forces in the not-too-distant future. After a period of reflection and finding new inspirations, Francesco Farfa is back where he belongs: deep in the underground, playing challenging and unpredictable sets of slick and sleek house, techno and minimal.
LUMIERE
Growing up in Argentina, amongst its vibrant cultural elements – Lumière became interested in music from a very young age. In 2011 she made the decision to move from Buenos Aires to Barcelona, to pursue her drive of digging vinyls and spinning records.
Quickly she found herself immersed in the house music and techno scene in Barcelona and was not long after she started playing for local parties. Her journey to building a career as a DJ while dedicating herself to a unique style and sound began.
As a DJ, her style varies between House and Techno with all its deep & jazzy facets which stands out with a particular mix of old rarities and modern tracks.
She has a specific intuition for the right record on the dance floor, where she manages to build a session in a unique way that engages the listener to the last vinyl.
Today she plays among the best underground venues in Europe, including Club Der Visionaere, RED58, Input, OFF Sonar and more; and holds residencies with Mistress, Loud-contact and Eightsquare in Barcelona.
KERAS
Keras parte integrante di Mint Sound è un record dealer con una devozione per le sonoritá nascoste e non considerate. Con una nostalgia per il passato, trascorre il suo tempo a invenire titoli di qualità e carattere da grossi stock o utilizzando la metodologia della blind culture.
_____________________________________
🌹SHE LOST KONTROL
SLK is an Italian independent label based in Berlin.Releasing since 2016 80s inspired music with contemporary aesthetic via vinyl, tape and digital.
Curators of the fanzine UNTILDEATH and resident of the OHM Berlin. They will celebrate their 6-year anniversary with label heads and friends
DAME AREA
The essence of Dame Area – the project of Barcelona-based duo Silvia Kostance and Viktor L. Crux – is
formidable, volatile, unpredictable. Across two albums and several EPs for the likes of Mannequin
Records, B.F.E Records and their own cult imprint / DIY organization Màgia Roja, Dame Area have
executed an eclectic, discerning form of contemporary industrial music, deploying compulsive minimal
synth and primal polyrhythms, as well as uniquely reconstrued elements of post-punk & EBM. An artistic
identity that embraces influence yet eschews compromise.
Upholding the assaultive intensity of their renowned live shows, Dame Area's third album 'Toda la
mentira sobre Dame Area' / 'All the Lies about Dame Area' nevertheless discloses unexpected
developments, a work distinguished by innovation and classicism, discordance and melodicism, the grit
of a basement club and the gleam of a radical discotheque. The first of two twin LPs, 'All the Lies about
Dame Area' illustrates one world within the wider universe of Dame Area, an album of paradox, which
finds the duo at their most explicit and emphatic, but which also sees them detour, into some of their
most experimental material to date. Across eight tracks, Dame Area assert an original, seductive idea of
pop, laced with avant-garde subversion.
Gridlocked minimal synth mechanics are riven with insurgent noise and dub echoes on 'La Nueva Era'
('The New Era') while the fierce hedonism of 'Innamorata del tuo Controllo' ('In Love with your Control')
evokes striking alternative histories; Gino Soccio meets Deutsch Amerikanische Freundschaft, the Italo
years of Liaisons Dangereuses, Nitzer Ebb reworked by Bobby O. Conversely, the disarming finale 'A volte
me sembra' ('Sometimes it seems to me') is dreamlike and winsome, the sound of an auspicious horizon,
hitting the sweet spot somewhere between Chris & Cosey's 'October Love Song', the Dorothy 'I Confess'
7" on Industrial Records, as well as the finer moments of Martin Dupont and early Human League. Yet
throughout these highlights and beyond, Dame Area establish their own voice, as vivid derivation
becomes transformation and inspirations are redefined.
Dame Area have been accurately described as purveyors of combat music – 'Música de lucha' – rather
than producers of dance music. This holds true on 'All the Lies about Dame Area'. However, their sense of
contention here is expansive and dynamic. 'All the Lies about Dame Area' is a record of tension and
surprise, where the distinction between melody and abstraction is thrillingly undetermined. A provocative
record for the here and now, which proves Dame Area are never easily contained.
Le Chocolat Noir
LE CHOCOLAT NOIR aka LCN, un chevalier noir with releases on She Lost Kontrol, Helena Hauff's Return To Disorder, Gooiland Elektro, Frigio, Kraftjerkz, Charlois and many more, is a model unrepresentative aiming for his utopian dream(s) since year 2000.
LCN is a member of bRAVE collective from Zagreb and is a resident DJ of Ljubljana's Elektroliza events, with previous residency at Zagreb's Queer Festival. Having played at countless events from Brasil to Japan and primarily in Europe, he also performed at Dekmantel Selectors, Dimansion and Exit Festivals, as well as at Intergalactic FM Festival. He is also releasing under alias FIUME ,Honored Matres, is a member of Florence Foster Fan Club with Zarkoff and has been also producing/releasing music in the prolific collab with Christian Kroupa since 2021. For nearly ten years Jasmin Yas has been selecting and playing a wide range of music in his radio show Disco Panonia on The Hague based Internet radio Intergalactic FM.
PC WORLD
Speculative fiction by way of EBM and synth-punk, the South London duo specialize in snotty industrial fit for club vigilantes and mutant punks alike. Like the surrender to a future shock, PC World is manufactured for the recognition of restraint and the demand for wanting more. Propaganda for the paranoiacs, parables by the plebeians; consume it and dilute what you will