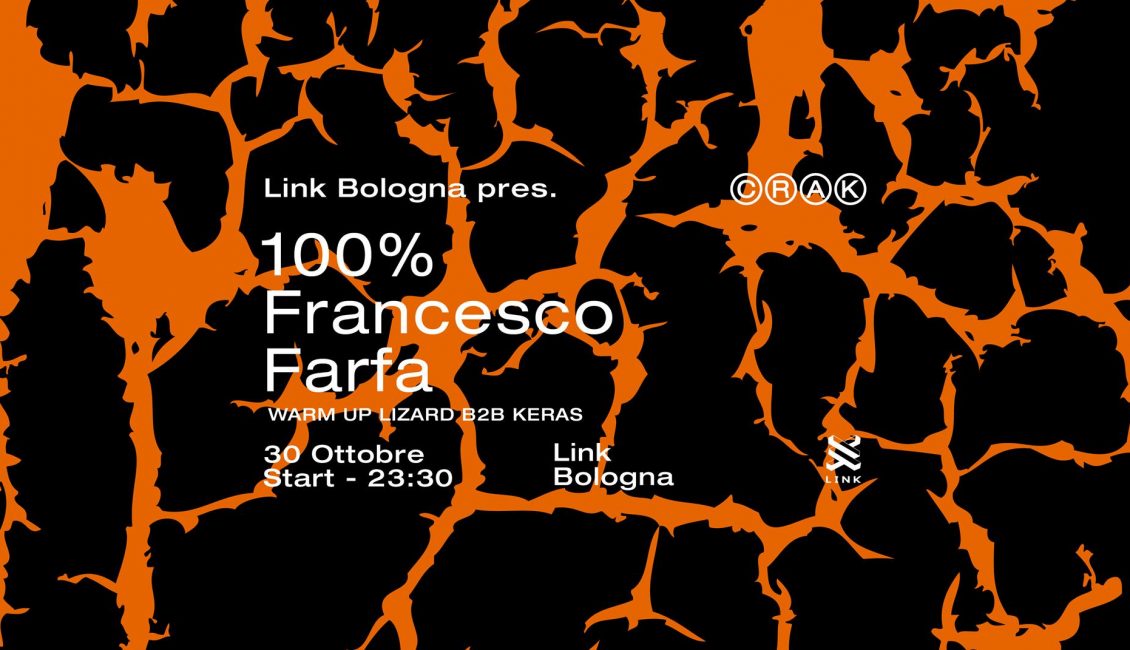 ⒸⓇⒶⓀ, irrompe e rompe le consuetudini di questi mesi di chiusura forzata, invitando una delle figure più importanti della storia del clubbing italiano, Francesco Farfa. Dai primi anni '90 ad oggi, Francesco Farfa è stato un punto di riferimento per il mondo del djing, ancora oggi, i clubber di mezza Europa, conoscono e apprezzano uno dei tesori della nostra scena musicale, un artista che rappresenta l'eccellenza in Italia e nel mondo.
100% FRANCESCO FARFA 
 Warm up: Lizard b2b Keras
Ridotto Online 9,99€ SOLD OUT
Ridotto Online 14,99€
> 
https://ugo.srl/e/7dd
 Francesco Farfa Biography
Francesco Farfa has got his groove back. In recent times, the Italian DJ has found himself re-energised once again, back in love with electronic music and right back at the sharp end of the underground scene. A true digger and sound obsessive, Farfa comes armed with decades of experience and musical appreciation, but now with a fresh perspective that means he is once again doing what he does best: turning musical emotions and compelling rhythms into dance floor art.
The Florence born DJ first started playing as far back as the 90s, laying down vital sets of funk, disco and proto-house sounds. His deck skills and rare knack for selection and sequencing meant he soon became one of Italy's most famous DJ exports, with his unique skills earning him sets at some of the most prestigious night venues and festivals, such as Space (Ibiza), Amnesia (Ibiza), E-Werk (Berlin), Vinyl (New York), Sonar (Barcelona), Love Parade (Berlin), Monegros (Fraga), Street Parade (Zurich) and many more.
From a production perspective, Farfa has released on the likes of Momento, Souvenir and Serial Killer, always evolving with each new 12″. Timeless sounds that always leave an impression, Farfa's records have earned a renaissance of late thanks to the support of numerous high-profile players from the scene.
Farfa's music has been called everything from psychedelic techno to cyber-trance, but it is impossible to truly define, with Farfa instead going in whatever direction his heart takes him. Hugely respected in his native country, Farfa has influenced a whole host of Italian DJs, with none other than Francesco Del Garda among those who continue to cite him as a major influence. Now, it is Del Garda who is inspiring Farfa, and in fact the pair have plans for a special back-to-back series that will see them join forces in the not-too-distant future. After a period of reflection and finding new inspirations, Francesco Farfa is back where he belongs: deep in the underground, playing challenging and unpredictable sets of slick and sleek house, techno and minimal.
 Per accedere è OBBLIGATORIO avere effettuato domanda di tesseramento e aver scaricato l'app AICS 2.0. La tessera sarà successivamente attivata presso lo sportello di tesseramento online al Link.
 Come da normative vigenti, per accedere all'evento è necessario il possesso del Green Pass o l'effettuazione di un tampone (con risultato negativo) entro le 48 ore dall'evento. In alternativa avrà valore anche il certificato di avvenuta guarigione dal Covid.
 Durante l'evento sarà obbligatorio indossare la mascherina in conformità con le indicazioni del Ministero della Salute.
 Il numero di ingressi è limitato e contingentato secondo le norme anti covid-19
 L'ingresso è consentito SOLO a chi indossa mascherina
 Saranno presenti diversi punti per la sanificazione delle mani da usare in accesso e in uscita da ogni area dello spaz