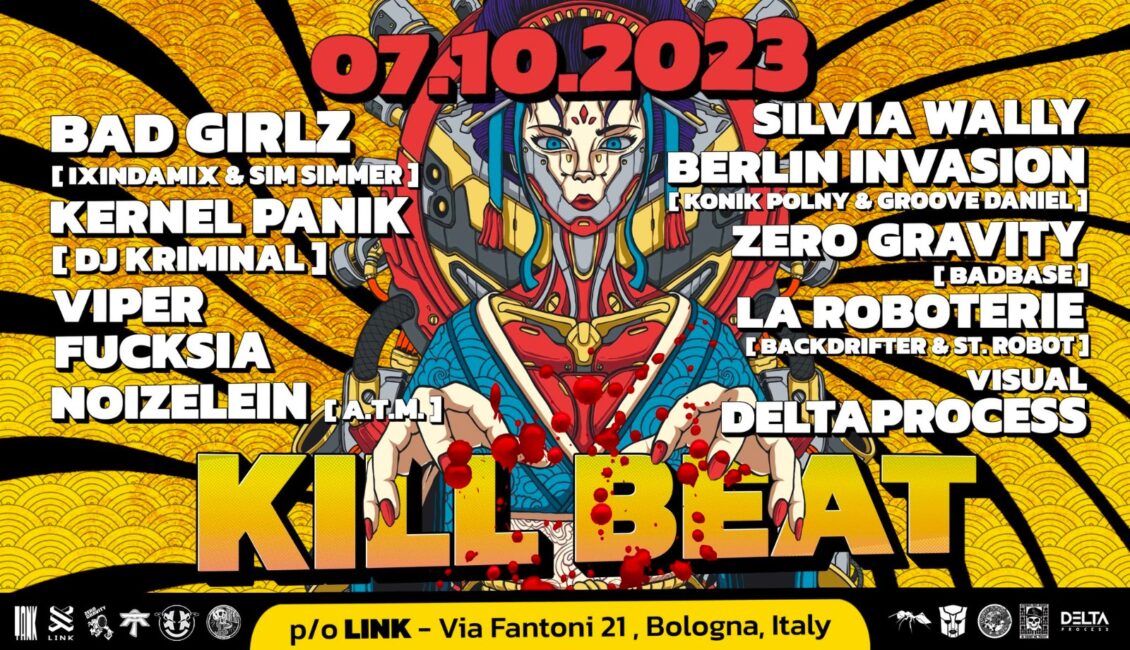 KILL BEAT @ Link
Dalla profondità del ritmo, una forza risvegliata si prepara a vendicare un passato oscuro. Le note si trasformano in colpi ben assestati, mentre le menti si risvegliano dal lungo sonno estivo, pronte a cercare giustizia.
Le porte dell'arena di Kill Beat si spalancano, rivelando un palcoscenico dove le note diventano colpi letali e la musica diventa l'arma scelta. Come una katana, lunga e affilata, la musica colpisce con una determinazione implacabile, portando la vendetta sonora a nuovi livelli di intensità.
Un duello musicale dove il ritmo è la spada e la musica è la vendetta.
'When fortune smiles on something as violent and ugly as revenge, it seems proof like no other, that not only does God exist, you're doing His will.'"
BAD GIRLZ > Ixindamix & Sim Simmer
KERNEL PANIK > Dj Kriminal
VIPER
FUCKSIA
SILVIA WALLY
NOIZELEIN ( A.T.M.)
BERLIN INVASION > Konik Polny & Groove Daniel
ZERO GRAVITY > Badbase
LA ROBOTERIE > Backdrifter & St.Robot
VISUAL – DELTAPROCESS
Start 23:00 till late > 08.OCT.23

 ONLY 50 Early Birds 10€ 
https://link.dice.fm/hYYw5IjorCb

 Prima release 12€ Coming Soon
---

EVENTO +18
---

 ATTIVA LA NUOVA LINEA NOTTURNA N3 (Ponte Ronca – San Sisto) DA VENERDÌ A SABATO, PREFESTIVI E FESTIVI. FERMATA SAN SISTO.
> Autobus 20 fermata "Pilastro"

 Ingresso riservato ai soli SOCI in possesso di tessera AICS
>>>
 Domanda Tesseramento Link 2.0: 
https://members.ugo.srl/signup/link
Per accedere è OBBLIGATORIO avere effettuato domanda di tesseramento online prima dell'evento. La tessera sarà successivamente attivata dopo aver completato la domanda presso lo sportello di tesseramento online al Link.
NB: Nel caso appaia il messaggio "qualcosa è andato storto" significa che risultate già inseriti all'interno del nostro database e necessiti solo di effettuare domanda di rinnovo presso la sede di Link 2.0 APS.
______________________________________________