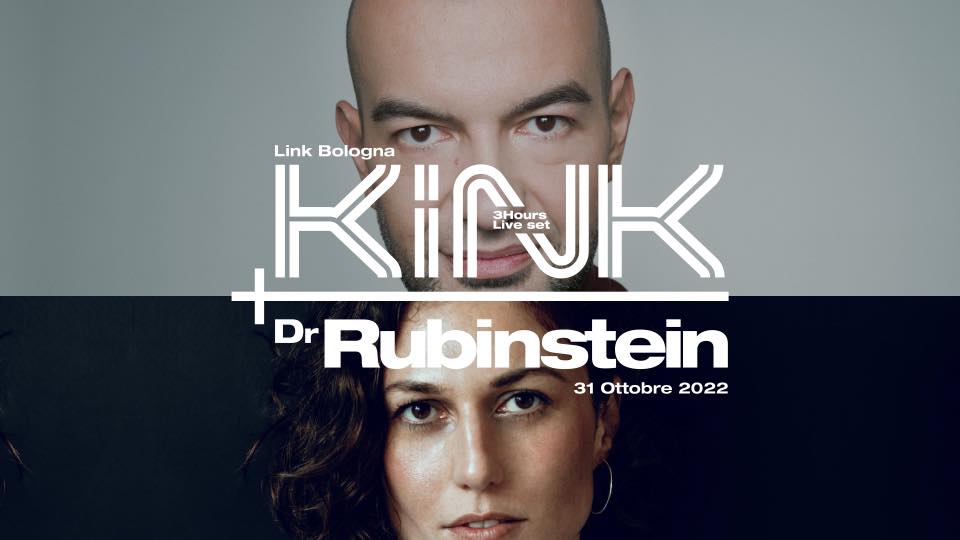 Per la prima volta a Bologna sbarcano KiNK e Dr. Rubinstein, insieme nella stessa serata per far tremare il Link e regalarci due set unici e indimenticabili.
Line up
KiNK (3hours live set)
Dr. Rubinstein
👉 Tickets online su Ugo
> Early Bird SOLD OUT
> 2nd Release 14€+ddp
https://io.ugo.community/…/ecb8c34c-0c96-4932-b5e2…
> 3rd Release 18€+ddp
⚠️Ingresso riservato ai soli SOCI in possesso di tessera AICS
>>> Domanda Tesseramento Link 2.0:
https://members.ugo.srl/signup/link
– Per accedere è OBBLIGATORIO avere effettuato domanda di tesseramento online prima dell'evento. La tessera sarà successivamente attivata dopo aver completato la domanda presso lo sportello di tesseramento online al Link
---
👉 Bio
KiNK (Running Back, Ovum / Sofia, BG)
Say what you wanna say, but you have to give Velchev this: the man's a powerhouse. Recording and playing live under the KiNK alias, he went on to become one of the finest purveyor's of funk in techno and house. What it is, by definition, ain't exactly clear. And that is the beauty of it.
KiNK's music is unifying in the best possible way. Channeling the spirit and feeling of a time where it didn't really matter who the faces behind the music were, KiNK plays with the elements of genres and sub-genres as if the future of it all is still wide-open. At the same time it could be accused of retro-fetishism, as much as the Pope himself is infallible.
The pure need to recreate moments, feelings and experience – rather than carbon copies of existing designs – was what started KiNK's production work. Hailing from Bulgaria, it was nearly impossible to get your hands on all the records and music that fed into a system of raves, clubs and record shops that seemed far away from Sofia, and financially it might as well have meant another galaxy. Wanting to DJ without having access to the tracks that spun the carousel meant that you had to create them yourselves. So, here we go with a private bootlegger gone public mastermind and one of the loudest voices in house, techno and beyond.
From KiNK's early productions with Neville Watson to his smash-hit for Ovum, a cerebral album for Macro, tons of remixes & tracks and his mind-bending live act, Playground seems to take all that into a blender. Simultaneously a sound- summary, the harvest of a field of ideas, and the exhibition of an artist in his prime, it also works as a sort of KiNK dictionary: avant-garde soundscapes stand next to boisterous bangers, classic club tracks and peak time emotions find their idiosyncratic and contemplative counterparts – all of it coming down like a torrent in a drought.
Dite quello che volete, ma bisogna riconoscere a Strahil Velchev questo: quell'uomo è una potenza. Producendo e suonando dal vivo con lo pseudonimo di KiNK, è diventato uno dei migliori portatori di funk nella musica techno e nella house.
La musica di KiNK è in grado di unificare nel miglior dei modi possibili. Incanalando lo spirito e il sentimento di un'epoca in cui non importava chi fossero i volti dietro la musica, KiNK gioca con gli elementi dei generi e dei sottogeneri come se il futuro di tutto ciò fosse ancora aperto. Il puro bisogno di ricreare momenti, sensazioni ed esperienze – piuttosto che copie carbone di progetti esistenti – è stato il motivo che ha dato il via al lavoro di produzione di KiNK. Venendo dalla Bulgaria, era quasi impossibile mettere le mani su tutti i dischi e musica che confluiva nel sistema di rave, club e negozi di dischi che sembrava lontano da Sofia. Volendo fare il DJ senza avere accesso alle tracce che facevano girare la giostra, bisognava crearsele da soli. Quindi, ecco un bootlegger privato divenuto un mastermind collettivo e una delle voci più influenti nel campo dell'house, della techno e non solo.
Dalle prime produzioni di KiNK con Neville Watson alle sue hit di successo per Ovum, un album cerebrale per Macro, tonnellate di remix e tracce e la sua strabiliante esibizione dal vivo, Playground sembra prendere tutto questo e mixarlo in un frullatore. Oltre a essere un riassunto sonoro, il raccolto di un campo di idee e l'esibizione di un artista nel fiore degli anni, funziona anche come una sorta di dizionario di KiNK: paesaggi sonori d'avanguardia si affiancano a bande tumultuose, tracce classiche da club ed emozioni da peak time trovano le loro controparti idiosincratiche e contemplative – il tutto scende come un torrente in piena siccità.
IG: https://www.instagram.com/kink303/
RA: https://ra.co/dj/kink
---
 Dr. Rubinstein
Dr. Rubinstein is the guise of Russian-born Israeli artist Marina Rubinstein. Since moving to
Berlin in 2012 her unique rave-focused style and performance have been marked by infectious energy, impeccable selections spanning multiple genres and decades, and acid basslines. A vinyl-enthusiast at heart, Dr. Rubinstein has long stood out in the underground music scene and forged an international following without the press and backing of a label, traditionally a pre-requisite for success in the industry.
Dr. Rubinstein tours extensively throughout Europe, the United States, South America, Asia and Australia. She performs at distinguished venues such as Bassiani, BASEMENT NY, Fuse and De School, as well as being a regular act at Berghain's Klubnacht events. She also headlines some of the major electronic music festivals including Dekmantel, Melt!, Sónar and Lowlands Festival.
Dr. Rubinstein è la maschera dell'artista israeliana di origine russa Marina Rubinstein.
Da quando si è trasferita a Berlino nel 2012, il suo stile unico focalizzato sulla musica rave e le sue performance sono state caratterizzate da un'energia contagiosa, selezioni impeccabili che spaziano tra diversi generi e decenni e bassline acide. Amante del vinile, Dr. Rubinstein si è distinta a lungo nella scena musicale underground e si è creata un seguito internazionale senza la stampa e il sostegno di un'etichetta, tradizionalmente un prerequisito per il successo nel settore.
Dr. Rubinstein è stata impegnata in numerose tournée in Europa, Stati Uniti, Sud America, Asia e Australia. Si esibisce in locali prestigiosi come il Bassiani, il BASEMENT di New York, il Fuse e il De School, oltre a partecipare regolarmente agli eventi Klubnacht del Berghain. È inoltre protagonista di alcuni dei principali festival di musica elettronica, tra cui Dekmantel, Melt!, Sónar e Lowlands Festival.
IG: https://www.instagram.com/dr.rubinstein666/
RA: https://ra.co/dj/dr.rubinstein