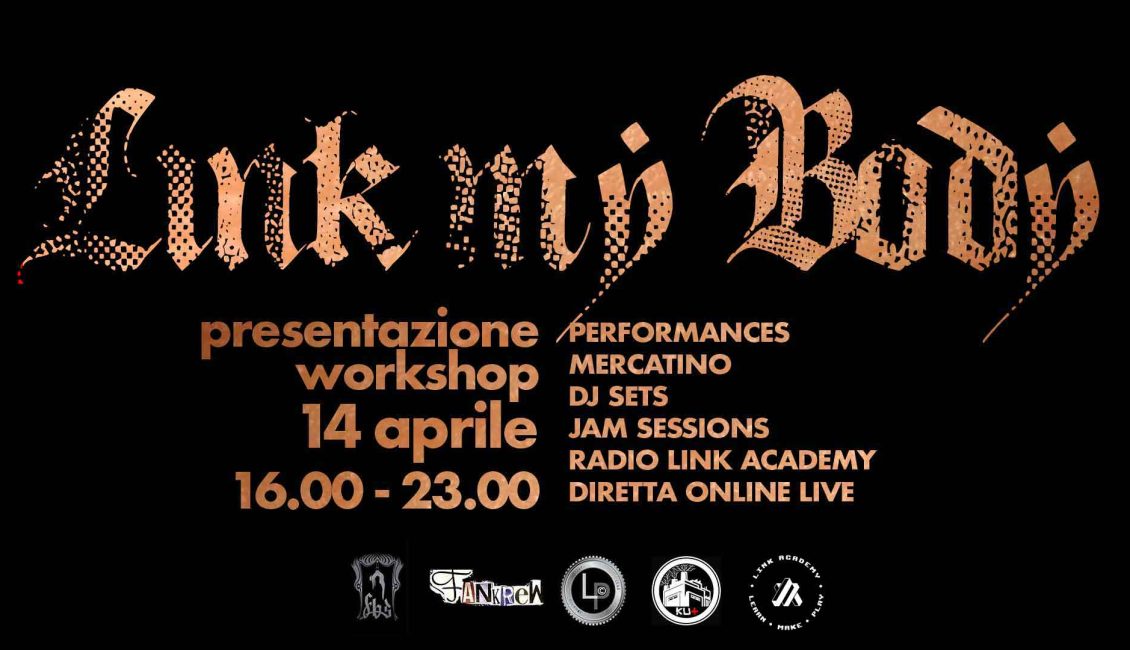 PRESENTAZIONE WORKSHOP, DJ SET, PERFORMANCE, EXPO, MERCATINI, DIRETTA LIVE, RADIO
Presentazione del workshop "link my body" promosso da fbs in collaborazione con ku+. in questa giornata saranno presentate due performance extreme curate e prodotte dal gruppo fbs e dai performers polly red and Danny the dog. Saranno inoltre proposte un'esposizione fotografica, curata dal Fotografo Leonardo Principe, e un'esposizione di dipinti d'autore e di opere di grafica illustrativa, mercatini di autoproduzione, dj set by t-noz from funkrew, jem session, diretta evento sui canali di competenza e interviste live a cura di link academy radio, videoproiezioni.
---
ORARI
16:00 apertura – jam session radio
19:30 presentazione progetto
20:30 "stay high di Simone bardi" 20 min
21:00 dj set
21:30 22:30 serie di performances
22:30 dj set t-noz
---
Ingresso con offerta libera riservato ai soli SOCI in possesso di tessera AICS
Ingresso riservato ai maggiori di anni 18 << —- >>>
Domanda Tesseramento Link 2.0:
https://members.ugo.srl/signup/link
Per accedere è OBBLIGATORIO avere effettuato domanda di tesseramento online prima dell'evento. La tessera sarà successivamente attivata dopo aver completato la domanda presso lo sportello di tesseramento online al Link.