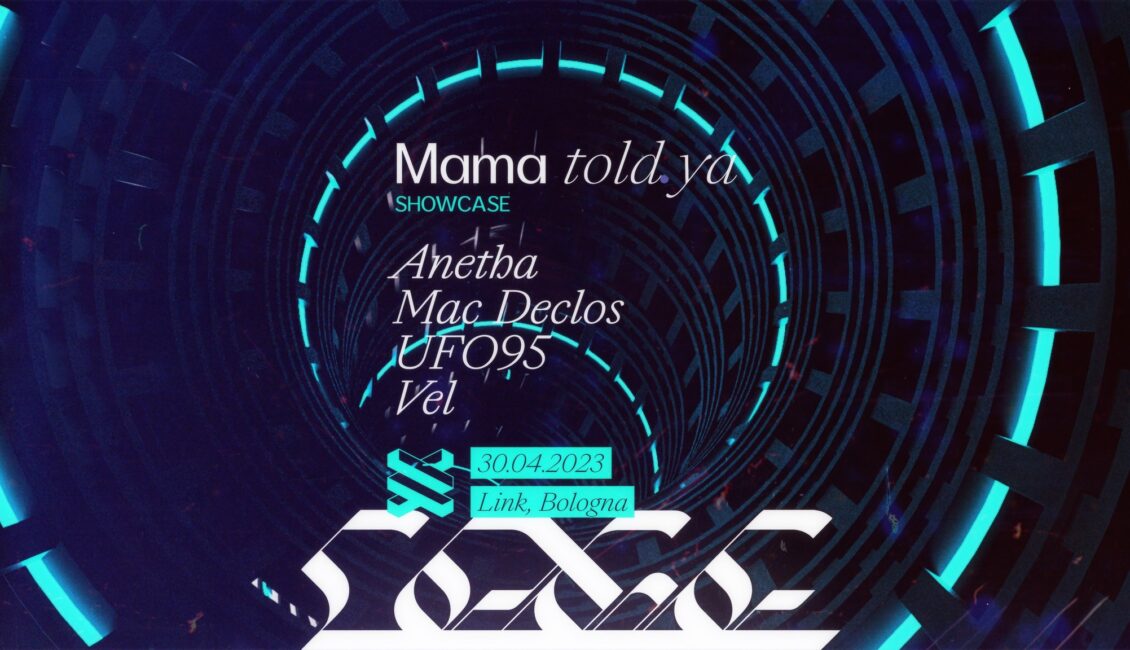 For this XXL volume, CAGE brings to Bologna a very special show: MAMA TOLD YA SHOWCASE.
Label founded in 2019 by Anetha, a French DJ and producer who has become the leader of the new techno generation, it was created with the mission of giving emerging artists a voice, creating new connections and giving them the chance to put themselves on the map.
A year later, the agency Mama Loves Ya was created, to complete the path already started by the label and help emerging artists to grow and focus on what matters.
Anetha, together with the structure she built, perfectly represents the most futuristic part of the current techno scene, combining groovy, trance and experimental rhythms.
With her from France 3 rare young talents from her family:
UFO95, sound engineer and devotee of the 90s IDM scene, jungle and hypnotic rhythms;
Mac Declos, eclectic artist with an unpredictable fast-paced sound that oscillates between body and mind, without losing the groove;
VEL, a.k.a. Jennifer Parienté, of Moroccan origin and characterised by a fast-paced but structured techno sound, powerful but graceful, that challenges the limits of genres by hitting hard.
LINE UP (A-Z)
TICKETS ON UGO:
https://tinyurl.com/ft2bthtb
> EARLY BIRDS: 10€ + ddp
Entrance only for MEMBERS with AICS membership card
EVENT +18
---
THE NEW N3 NIGHT TRAIN (Ponte Ronca – San Sisto) IS NOW ON FROM FRIDAY TO SATURDAY, PREFESTS AND HOLIDAYS. STOP SAN SISTO.
ATTIVA LA NUOVA LINEA NOTTURNA N3 (Ponte Ronca – San Sisto) DA VENERDÌ A SABATO, PREFESTIVI E FESTIVI. FERMATA SAN SISTO.
> Autobus 20 fermata "Pilastro"
---
Entrance only for MEMBERS with AICS membership card
In order to enter, it is MANDATORY to have applied for membership online before the event. The card will then be activated after completing the application at the Link online membership desk.
NB: If the message "something went wrong" appears, it means that you are already in our database and only need to apply for renewal at the Link 2.0 APS office.
Ingresso riservato ai soli SOCI in possesso di tessera AICS
Per accedere è OBBLIGATORIO avere effettuato domanda di tesseramento online prima dell'evento. La tessera sarà successivamente attivata dopo aver completato la domanda presso lo sportello di tesseramento online al Link.
NB: Nel caso appaia il messaggio "qualcosa è andato storto" significa che risultate già inseriti all'interno del nostro database e necessitate solo di effettuare domanda di rinnovo presso la sede di Link 2.0 APS.