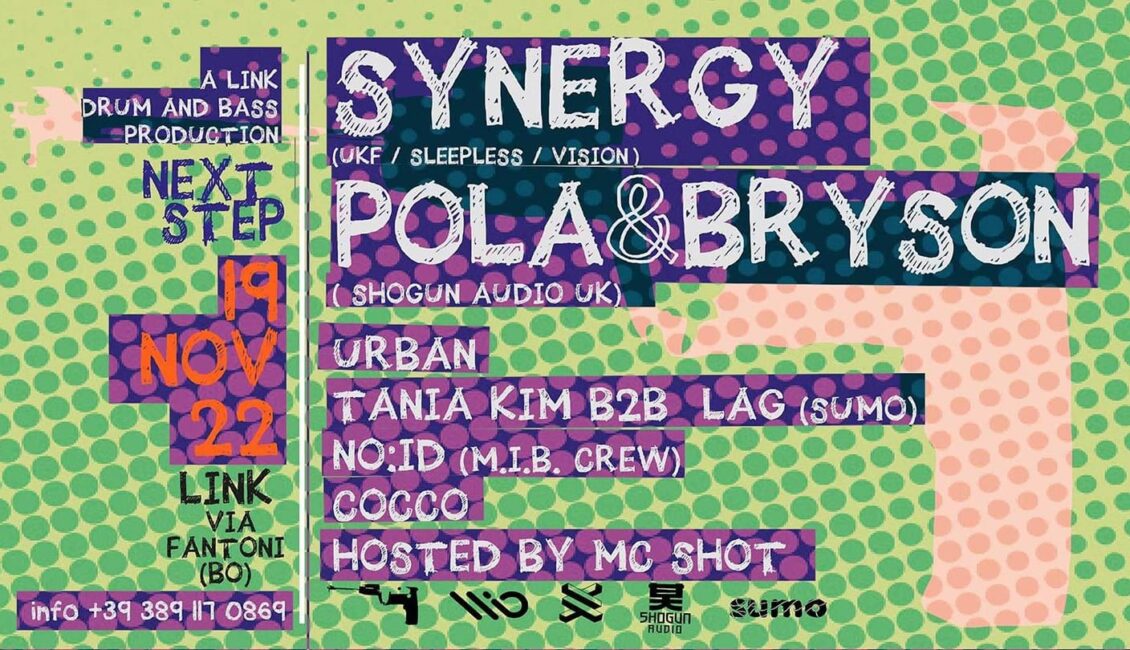 Torna la Drum and Bass al link con Next Step, nuovo contenitore di suoni Jungle e Drum and Bass, che vedrà alternarsi alla consolle del Link artisti internazionali.
Sabato 19 Novembre avremo due dei nomi più interessanti della scena attuale: Synergy della Ukf e Pola & Bryson dalla Shogun Audio, oltre ai local heroes Urban, NO:ID, Tania Kim in back to back con Lag di Sumo e dj Cocco.
Maestro di cerimonia sarà MC Shot, instancabile intrattenitore delle serate Dnb italiane di grande livello .
Biglietti in prevendita su Dice. 
line up:
Synergy (UKF, Sleepless, Vision)
Pola&Bryson (Shogun Sudio UK )
Tania Kim B2B Lag ( Sumo)
NO:ID ( M.I.B. Crew)
Urban (Link dnb )
Cocco (Link)
MC Shot
apertura h 10.30 p.m.
chiusura 06.00 a.m.
ingresso riservato ai soci A.I.C.S
LINEA 20 N DI NUOVO ATTIVA ⚠️
È di nuovo attiva la linea notturna 20N, di seguito gli orari (per maggiori info consultare il sito di Tper Bologna al seguente link: https://www.tper.it/bo-20n)
Andata dalla fermata "Sferistereo":
00.36 / 01.36 / 02.36 / 03.36 / 04.36 / 05.06
Ritorno dalla fermata "San Sisto"
01.00 / 02.00 / 03.00 / 04.00 / 5.30
Dalla fermata "Pilastro" autobus 20:
05.42 / 05.57 / 06.12 / 06.27 / 06.42 / 06.50 / 06.54 / 06.58 / 07.03 / 07.08 / 07.16 / 07.20 / 07.24 / 07.28 / 07.32
---
⚠️ Ingresso riservato ai soli SOCI in possesso di tessera AICS
>>> Domanda Tesseramento Link 2.0:
https://members.ugo.srl/signup/link
– Per accedere è OBBLIGATORIO avere effettuato domanda di tesseramento online prima dell'evento. La tessera sarà successivamente attivata dopo aver completato la domanda presso lo sportello di tesseramento online al Link
Nel caso appaia il messaggio "qualcosa è andato storto" significa che risultate già inseriti all'interno del nostro database e necessitate solo di effettuare domanda di rinnovo presso la sede di Link 2.0 APS