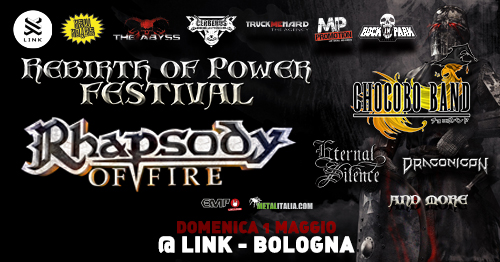 Rebirth of Power Festival – Una chiamata alle armi, un canto liberatorio di chi per due anni non ha potuto esprimere le proprie emozioni; per una vera rinascita, con la musica che più amiamo, ecco ! Un festival pensato per celebrare un nuovo inizio, una fiamma destinata a non spegnersi per i prossimi anni a venire.
La location scelta per l'evento è il prestigioso di Bologna, polo avveniristico e multifunzionale che oltre ad ospitare le band a cartellone avrà al suo interno una serie di stand a tema, tra merchandise ufficiale, gadget, memorabilia, giochi e molto altro, per una giornata di musica, fantasy e divertimento.
Rhapsody Of Fire, Eternal Silence and more!
---
Domenica 1 Maggio 2022 @Link Bologna
27€ in prevendita

30€ alla cassa
Acquista qui: https://ugo.srl/e/7fY
---
A capitanare un bill di tutto rispetto troveremo i , la band di e si esibirà per la prima volta in assoluto dopo 2 anni, presentando al pubblico i brani del riuscitissimo " ", insieme alle canzoni che hanno reso immortali le note di una realtà tutta Italiana, fonte d'ispirazione per molti artisti nel mondo.
Con loro gli ETERNAL SILENCE, combo lombardo che si è fatto notare con l'album di recente pubblicazione "" "", edito da Rockshots Records
Le band che andranno a completare la line-up, dettagli e orari, verranno annunciati a breve.
——- Update ——-
Il bill è ancora in fase di definizione, tuttavia, alcuni nomi di grandissima caratura hanno già confermato la propria presenza. Fra di essi troviamo la CHOCOBO BAND, combo progressive/epic metal, fortemente ispirato dalle colonne sonore del celeberrimo videogame Final Fantasy, salito alla ribalta con l'ultimo album "Tales from Other Worlds", che anche grazie al singolo "One Winged Angel", tema di Sephiroth, final boss di FF VII, ha ottenuto ottimi riscontri di pubblico e critica.
Con loro i DRACONICON, formazione dark power metal, freschi di pubblicazione del loro album di debutto "Dark Side of Magic", edito da Beyond The Storm Production. Un nuovo mondo oscuro e maledetto, per un concept innovativo in cui il caos e la follia prendono il sopravvento sull'ordine e la ragione.