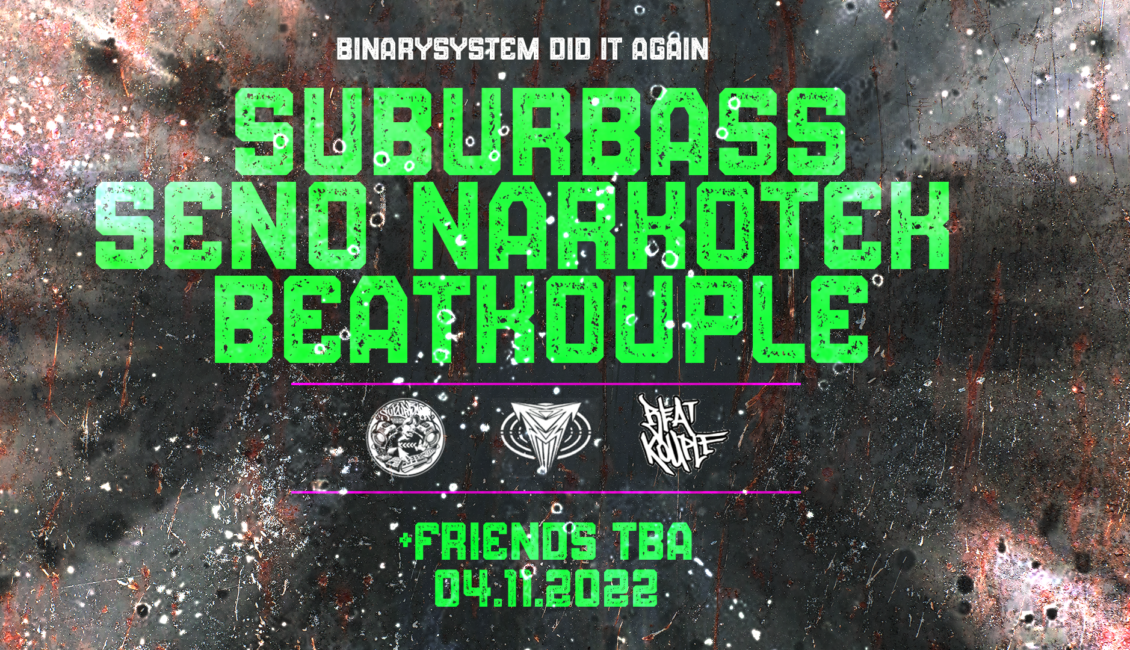 Ecco un altra produzione BinarySystem con Suburbass e Seno Narkotek come ospite della serate. Potevano mancare Monzo e Ingrid aka Beatkouple? oltre questo tris ci saranno anche altri ospiti che annunceremo presto.
Info e tickets TBA
---
Joel Tambour aka Suburbass could be seen as one of the pioneers of the French electronic scene.
His career goes way back to 1984 when he starts experimenting with electronic music. He starts just with a 4×4 beat with sequencer and a synth (Casio, Korg, Roland, Yamaha…), a guitar and a microphone making technopop, electroclash and EBM.
But not just the electronic part of the music scene had his interests, but also analog stage music like Hard rock, Punk, metal, Rock Nuwave ect is being a influential part of his life, as he performed as a singer in more than 15 bands in the mentioned styles from the age of 14.
Combining these two parts of his life brought him to his sound what we know today as Tribecore/Hardtek/Frecnhcore.
Around 1988 he had his first experiences with the rave scene by coincidence, as he was a big fan of joy division and factory records and he was present at Hacienda in Manchester, during the summer of love. During this period his discovers the Technoid tunes, Acidhouse music, and rave music scene in UK and het gets Hooked.
At the beginning of the 90's he also discovers the free party scene, and in 1996 after visiting many dance/house/free parties, and being totally addicted to the repetitive beats, he finally decided that he want to perform and entertain people by himself with his music, and started his live act career.
In Case of Subrubas with more than 50 releases on the biggest labels of the word such as Le Diable Au Corps, WAR, Ballistic, Astrofonik, TNL, FSL,Tekita, and more than 700 gigs all over Europe the past years, we can truly speak about one the creators of the today's sound.
---
Seno Narkotek
At the age of 15, he discovered a deep passion for electronic music and underground culture,
and began to attend the first scene "raves" of the Paris area, and learnt to appreciate the greatest artists of tekno music.
More fascinated by genre, in 1995 he bought his first record player and began to experiment the "DJ set". But in the following year, the real revelation came with the encounter of Weser, Kefran and Guigoo who became for him a starting point.
Together they founded the "Narkotek sound system" and in 1998 they became more and more protagonists and participants of teknivals and rave parties.
In 1999 Seno started his real artistic production. In 2001, he produced his first compositions
"Narkotek '01". This first completely self-produced album has a tekno tribe style, but with jungle sounds, hip-hop and hardcore influences that refine the sound by making it more powerful and insistent: the "tribe core style" was born.
In 2005 he decided to found a personal label, the "Tabass record" that now reflected an established style. And later, in collaboration with "Nout Heretik", he realized and produced the first record label "Final Fight ", which immediately followed the creation of a second label in co-production with "Weser Narkotek" : the " 404 rec ".
Later he worked with other producers like "Guigoo" and "Interface 68, LSDF".
It was in this phase that he fully developed his musical career, his live set became a cult of tekno music with a unique style and the unmistakable imprint "Narkotek".
Different compilations were produced by labels like "Teknival" and "Le diable au corp" and Seno became an artist both loved and sought after. He increased his appearances and live performances throughout Europe, performing with artists like Crystal Distortion, Ixindamix, Lenny Dee, Speed freack, Radium, Mat Weasel Buster, Floxytek, The Destroyer, Keygen and many others, and he became a musician appreciated all over Europe playing also in the U.S.A
and Canada.
However, he has never stopped his participations in teknivals, festivals and various musical events (Monegros, Hard Festival Park, etc.). Now, with a powerful and energetic live set, Seno is considered as one of the most renowned and sought after artists of the European underground scene.